There is much more to naming your company than simply coming up with a name you like. A good name will convey the character and objectives of your company, not to mention you'll be able to market your business better. Before you file to form your LLC, LLP, corporation, or pretty much any form of business, there are several things to take into account in order to pick an effective corporation name. 
Before you invest in creating a business entity, a website, logos, and other promotional materials, it's crucial to carefully consider your choice of business name since it will be with you for a long time. At the Corporation Center, we've thought about important elements that might help you decide. 
Choosing a Corporation Name For Beginners
One of the most fun and inventive aspects of launching a new company is picking a name. But first, make sure the name is available by checking the legal requirements in your state. Additionally, make sure the name you select reflects the long-term objectives and desired image of your company.
Pick a Unique Name
Keep an eye out for rival businesses that are using names that are similar to the one you want while you're searching for a distinctive name. Stay away from company names that could cause confusion between your company and another similar type of company in your area. If your town already has a "Red Sun Car Service," for instance, you shouldn't call your establishment a "Red Sun Car Service."
At worst, the other company might accuse you of trademark infringement, and you might end up having to defend yourself in court. Even so, you still want your company to have its own brand and identity because being mistaken for a rival is rarely a good thing.
You May Use More Than One Assumed Name, But Only One Legal Name.
There can only be one "legal" name for your company at a time. However, it is possible to have a wide range of assumed or DBA (doing business as) names. You can therefore use them as DBAs if you have any other business name suggestions. For instance, if the legal name of your LLC is "Johnson and Brown, LLC," you could file two DBAs to conduct business as "Best Chefs" and "World Wide Chefs." These DBA names can be used on your website, business cards, advertisements, and other materials.
Name Identity
Determine your brand identity before settling on a business name. After that, decide on a name that accurately describes that trait. Despite describing the same kind of company, "Speedy House Super Wash" and "Velvet Touch Wash" has different connotations and target markets.
Your Legal Name Shouldn't Contain Any Words That Are Forbidden Or Restricted.
Many states also forbid specific words from being used in a company name. There are some words that the government deems offensive. Others are meant to guard against public confusion. For instance, a state might forbid the use of the word "insurance" in the name of a company that isn't an insurance provider or might demand the Insurance Department's consent before allowing its use. Additionally, they forbid using words that suggest it is a type of entity that it is not. Therefore, a limited liability company could not use the word "corporation" in its name.
Create a Name That is Web-Friendly
You'll probably have a website and social media sites such as a Facebook page for your company. There's a chance that your company is active on additional social media networks too. By doing some research, you can find out if you can register a domain name that corresponds to the name of your company and open social media accounts in your name.
Simple and memorable domain names work best. While having a name with an unusual spelling or a long name may sound great to you, it may be more difficult for prospective clients to look you up online or type your name correctly in an email.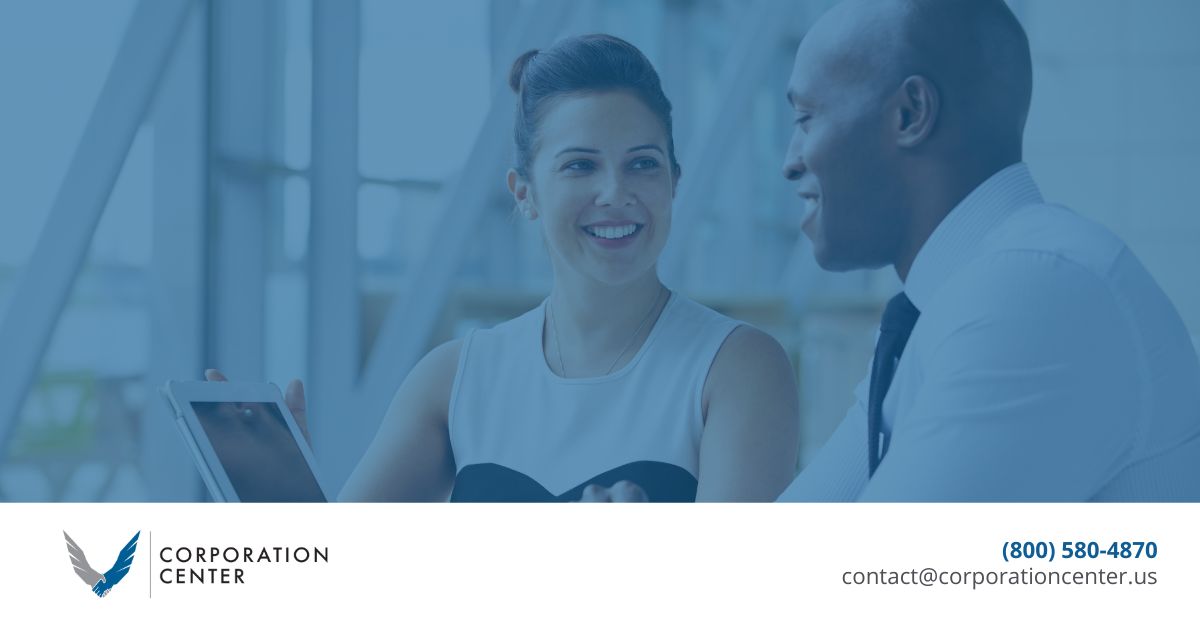 The Help You Want For All Your Business Needs
Once you decide on a corporation name for your business, you can move on with the required paperwork and necessary forms. You may decide to set up the business as one of many different business structures, depending on your goals for the enterprise. Finding a desirable location for your office or storefront is also a crucial step after that. As a final step, select a financial institution that will work with you to provide financing and other financial services.
At The Corporation Center, we encourage clients who are not familiar with legal jargon and procedures to use our cutting-edge online service because it is efficient and practical. Anyone who needs help setting up any type of business structure can get in touch with us at any time. If it's been a while since you've done anything similar or if you have any questions, call us at (800) 580-4870 for assistance.