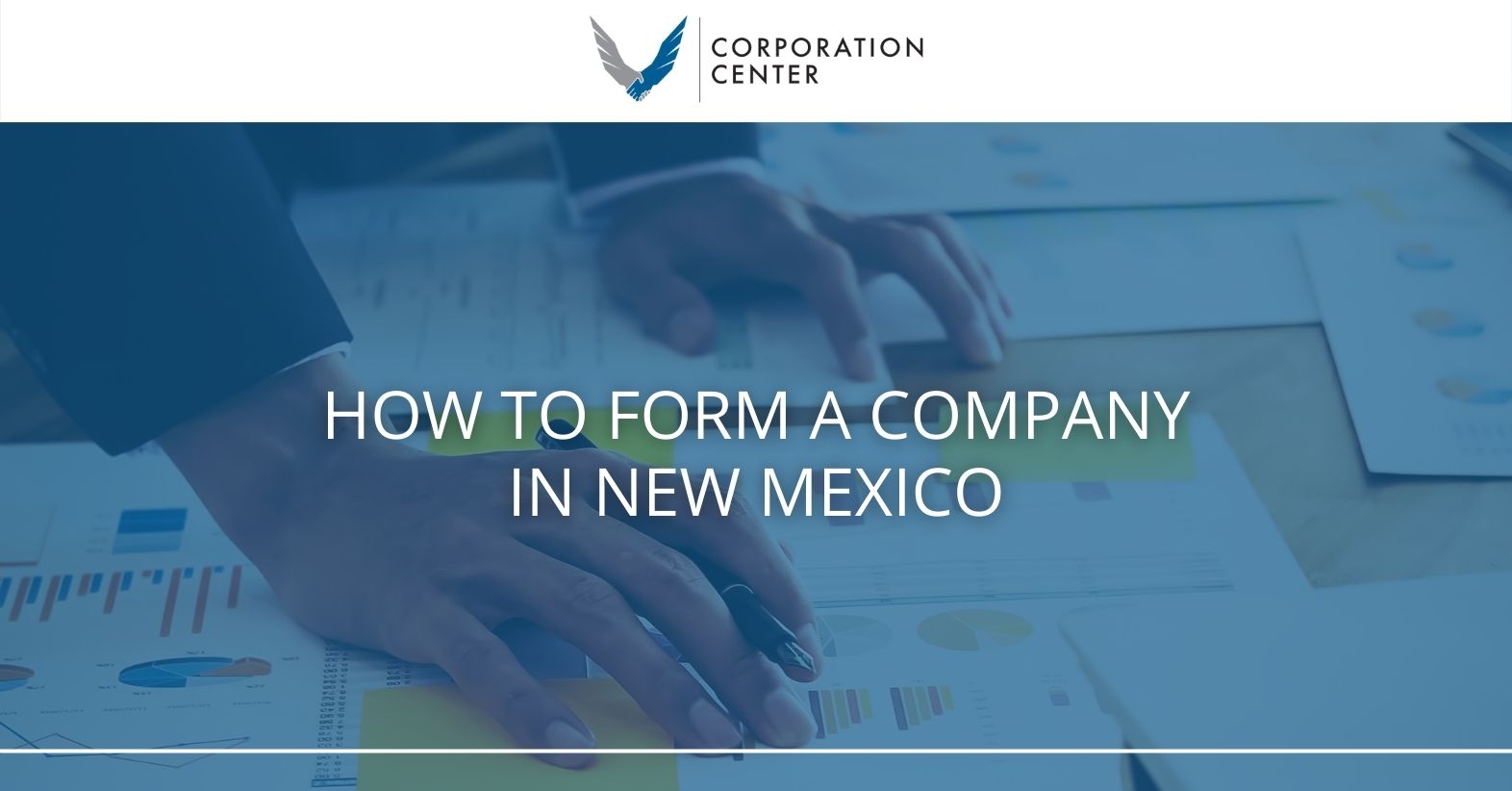 There are several ways to form a company in New Mexico. It could be a limited liability company (LLC), corporation, partnership, or other business entity. Each structure has its advantages and disadvantages. Depending on your needs and resources, one type of company will suit you better than others.
Who can form a company in New Mexico?
Anyone who can enter into a contract can form a company in New Mexico. Therefore, minors (under 18 years of age) cannot form New Mexico corporations because they are not allowed to enter into contracts.
Types of New Mexico Companies
What you choose in a company will depend on your exact needs. If you want to protect your personal assets (primarily your home and car(s), it's best to choose an LLC or corporation. While you don't have to register New Mexico partnerships, you can still set up a partnership under an LLC and receive personal asset protection and tax advantages.
The information below covers the main types of entities that are registered as businesses with the state. These two structures are LLCs (popular with start-ups) and corporations – companies that want to go public.
Defining a New Mexico LLC
A limited liability company is a hybrid structure that combines the pass-through taxation of New Mexico partnerships with the liability protection of  New Mexico corporations. Owners of an LLC are called members. 
Members are not liable for company debts beyond what they have invested in the company. An LLC can be owned by individuals, corporations, or other LLCs. There are few restrictions on who can operate an LLC. 
If you elect taxation as an LLC or an S corporation, you must be a U.S. citizen or an individual. You cannot be a foreign person or a larger entity. Therefore, you cannot elect S corporation tax status as an LLC if you're a corporation, partnership, non-resident alien, financial institution (in some cases), insurance company, or U.S. international sales corporation. 
On an individual level, an LLC may restrict membership in the business operating agreement. For example, it might only limit ownership in the business to family members.
Defining a New Mexico Corporation
A corporation is a separate legal entity owned by shareholders who are not personally responsible for company debts and liabilities. Shareholders elect a board of directors to manage the company. 
Corporations must file articles of incorporation to receive legal status. The businesses must have a profit objective, and cannot be formed for charitable or civic purposes.
How to form an LLC in New Mexico
To form an LLC in New Mexico, you'll basically need to take the following steps:
Obtain a unique name for your business. You can access the name through the Secretary of State (SOS) portal online to find a one-of-a-kind business name. Make sure the name accurately represents what you plan to market.

Obtain the services of a registered agent–a business or person who resides in New Mexico–who can act on your behalf when filing and receiving legal business documents.

File the Articles of Organization. You can use an online application to proceed with the process.

Create an Operating Agreement so you have policies in place, in-house, to resolve any disagreements.

Obtain an Employer Identification Number (EIN) to set up a business bank account and to pay hired employees.

Establish your business bank account and set up an accounting system solely to cover your business.

Check on obtaining the required permits and licenses.
Forming New Mexico Corporations
Creating New Mexico corporations is similar to establishing an LLC, although the process is more involved and therefore takes a longer time. Basically, to set up a corporation, you need to take the following steps.
Select a one-of-a-kind business name. You can use an online application to speed up the process.

Obtain the services of a registered agent to handle the receipt and mailing of your corporation's legal paperwork.

Obtain an employer identification number (EIN) for tax purposes and to pay employees.

Choose the directors for your company.

File the Articles of Incorporation to form your business structure.

Create Corporation Bylaws (similar to an LLC Operating Agreement), so you have guidelines in place for operating your company.

Set up your accounting system and open a business bank account.

See what permits and licenses your business needs.
Creating a Business Plan for Your Business
Before you begin the registration process, you'll need to determine the concept of your start-up and develop a business plan. This can be easily done if you check on the Small Business Administration (SBA) website for guidance.
If you create a traditional business plan, you'll need to follow a specific format. This format should include the following sections.
Executive Summary
This section gives the reader a summary of your company and your mission statement. It also features financial data and plans for growth.
Company Description
This part of your business plan provides details about your business, showing how your company will solve certain customer problems and how it will serve customer needs. It also includes the professionals on your team and your company's location. This is the section that allows you to tell the reader why your company has the competitive advantage.
Market Analysis
This section elaborates on the trends in your industry and how your business addresses these events.
Organization and Management
This section covers the structure of your business (New Mexico LLC or corporation) and how it is run. You can use an organizational chart to show the key roles of your executive staff.
Services and Products
This part allows you to introduce your services and products and gives you the opportunity to explain their advantages.
Marketing and Sales
Under this section, you will show how you plan to draw customers to your business and how you will keep them interested in your products and services. You can also use this section to project future earnings.
Request for Funding
If your goal is to request funding, you can outline your budget requirements under this section. You can explain how the funding you'll receive will be used over a period, say, of five years. Specify how much of the money will go to items such as equipment and salaries, or to pay certain bills until you increase your earrings.
Financial Projections
You can support your request for funding by adding financial forecasts. Under this section, you'll need to show the reviewer why your business will be a success. You can use charts and graphs to clarify your points.
Appendix for Supporting Data
Add supporting documents and list them in an appendix. This content may include executive resumes, pictures of products, reference letters, credit histories, contracts, permits, patents, and licenses.
Register Your Start-up Company in New Mexico with the Corporation Center Now
Do you need help registering your company in New Mexico? Make things easier by going online and filling out an application form now. Contact the Corporation Center today at (800) 580-4870 for further details.