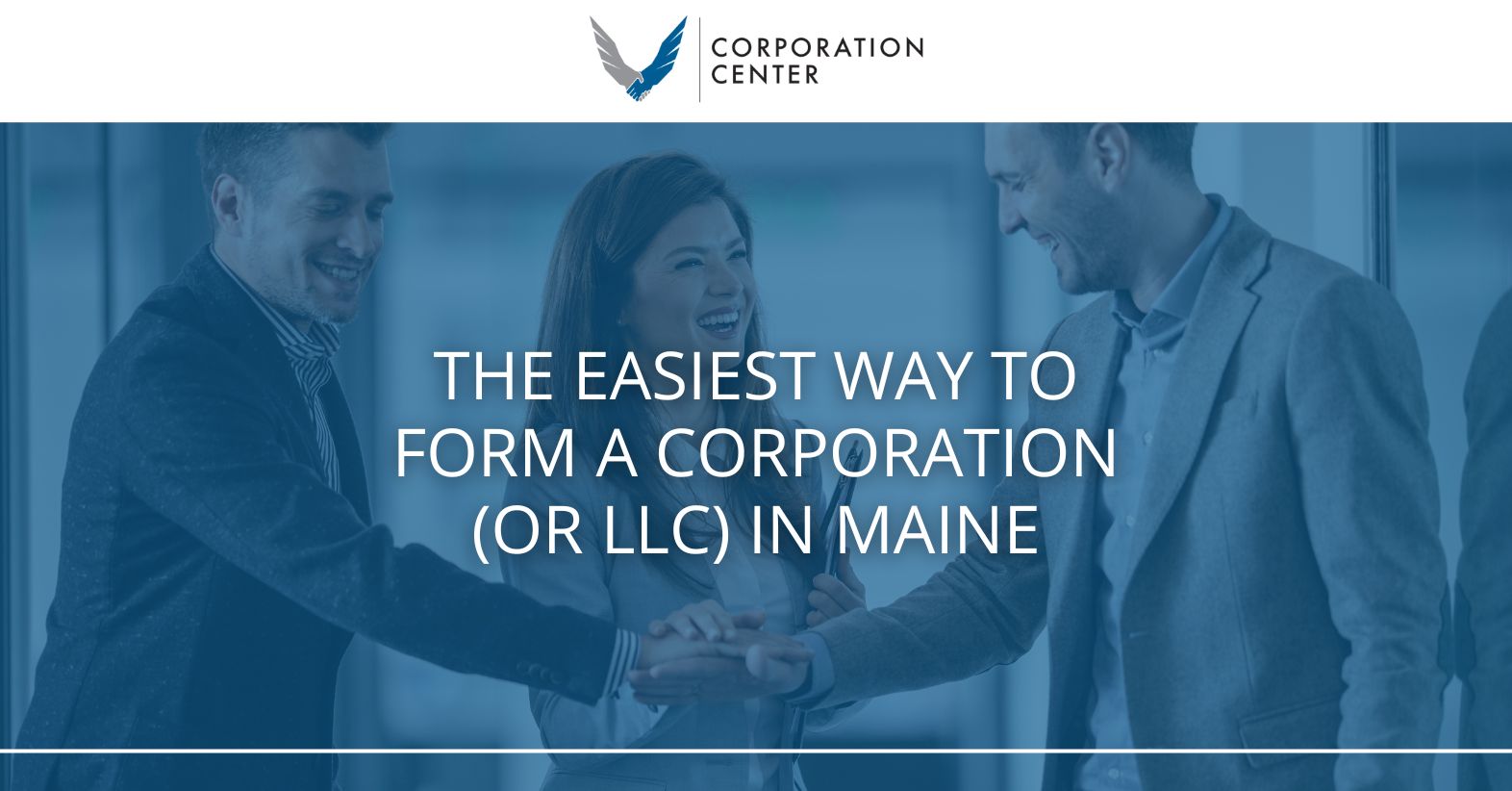 If you own a Maine company and are trying to figure out the best way to organize your firm, you're not alone. One of the best options is to form a corporation (or LLC) in Maine. New business owners often find themselves unsure of where to start when it comes to founding a corporation or limited liability company in Maine. Many people are incapable of deciding due to the dizzying array of options available to them, and as a result, they do nothing at all. 
Even though certain methods are more involved, setting up a company (or an LLC) in Maine is surprisingly simple and can be accomplished entirely online in a matter of minutes. The following blog post will take you through each stage of the procedure in sequential order. If you feel that your company is ready to go to the next level, the following are some simple actions that may help you get started:
Choose Your Business Structure
How do you determine the best legal structure for your new Maine company? As the company's founder, this choice will be crucial. Two common structures are available: corporations and limited liability companies. Both are useful for shielding private assets and simplifying selling equities for cash. However, each has tax obligations and options for profit sharing and executive control. Businesses may incorporate in the state by the general business corporation legislation. Shareholders have limited liability protection, meaning their assets are not at risk in case of a lawsuit or a creditor's claim.
Nonetheless, proprietors need to be mindful that their possessions might be at risk in case of a lawsuit against the proprietorship. The state's Limited Liability Company Act provides the legal framework for establishing an LLC. To paraphrase, it's like having the limited liability protection of a company with much more freedom.
Choose Your Registered Agent
There are a lot of compelling arguments in favor of establishing a company, but let's be honest: this endeavor seems like a lot of effort. When done on your own, incorporating a corporation or limited liability company (LLC) may take a significant amount of time and often results in confusion. Thank goodness, there is a simpler approach! Using our Registered Agent Service to form a corporation (or LLC) in Maine can avoid the tedious tasks associated with establishing your business. 
This will allow you to focus your attention on the tasks that matter. This person will act as the official agent of your company in relation to the serving of process, legal papers, and other responsibilities. This individual or organization has to be reachable during normal business hours and should be aware of your company's official address. You can select either a person or a firm to fill this function.
Complete The Articles Of Organization To Form A Corporation (Or LLC) In Maine
You can't simply go about calling your organization a corporation or an LLC. You are required to have a certificate issued to you by the Secretary of State (SOS). You are required to utilize the Secretary of State's paperwork to establish a corporation or limited liability company for any business in the state. This agency is in charge of monitoring the process by which enterprises in the state are established as well as dissolved. 
A corporation, which requires filing articles of incorporation with the state, has shareholders, who are granted ownership rights in the company's income and assets as a result of the filing. An LLC does not have individual owners but a centralized management team with separate rights to the company's assets. Depending on the form of your firm, you may be required to file either Articles of Organization or a Certificate of Formation to form a corporation (or LLC) in Maine.
File Your Paperwork with the Maine Secretary of State
You must submit your documents to the Secretary of State in Maine. Visit the Corporation Center or Secretary of State's website, choose "Form a Corporation" or "Form an LLC," and fill out the relevant portions of the form, paying close attention to whether you are creating a corporation or an LLC. There are handy checkboxes for whether you want to be an open or closed company and your firm to be taxed as an S-corporation, partnership, ordinary corporation, or foreign organization. 
Make sure your lawyer completes all necessary documentation. All of your officials, fiduciary documentation may be found here. Articles of incorporation, bylaws, and member/shareholder agreements are some of the most common papers needed when starting a business entity. As an added precaution, corporate seals and credentials of executives or board members may be required (again, depending on your type of company).
If you know where to begin, it's a straightforward procedure. We've learned a thing or two about forming corporations and limited liability companies through the years of assisting clients in Maine and around the nation. For additional information on how you may give back this Christmas season via this channel, please call (800) 580-4870 and speak with one of our professionals at the Corporation Center.