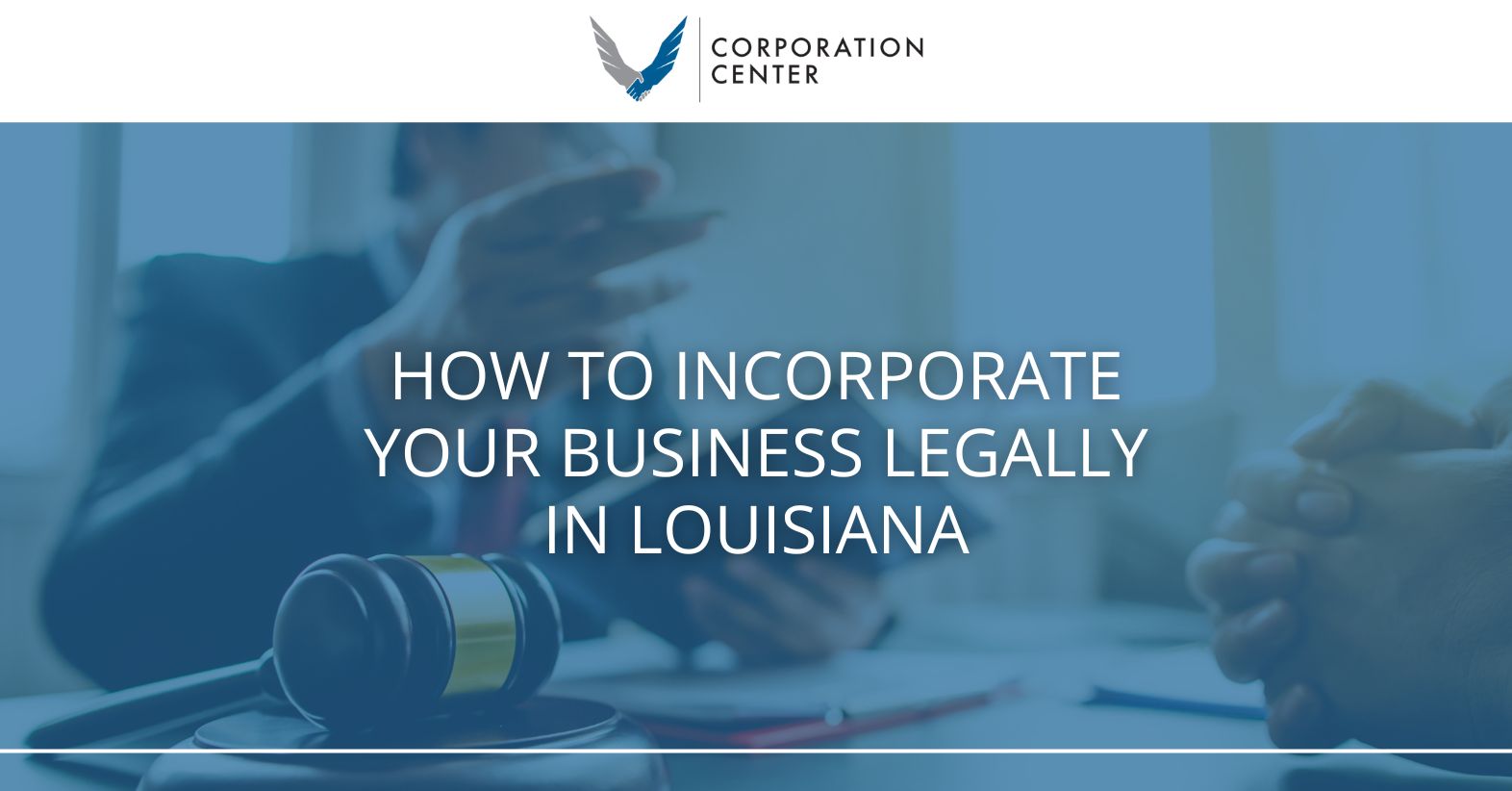 Have you given any thought to incorporate your business in Louisiana? In such a case, it is vital to have a solid understanding of the legal process of incorporation and the proper way to carry it out. When forming a new company, one of the essential choices that must be made is the kind of legal structure to use for the company. This guide will assist you in determining which of the several ways firms may incorporate in the state of Louisiana is the most suitable for your particular company. 
In this blog, you'll learn the fundamentals of each kind of incorporation and the advantages and disadvantages of each available choice. Continue reading if you are interested in learning more about incorporating your company in Louisiana, regardless of whether you are just starting or have been in business for some time. Here are some suggestions on how to go about doing that:
Decide What Type of Corporation You Want To Form
When you incorporate your business in Louisiana, you show yourself and the state that you mean business. First, you'll need to settle on a legal structure for your new company. You may choose to create your Limited Liability Company (LLC) with or without an operating agreement. The corporation will be subject to state law if an operating agreement is not filed. Suppose your company's circumstances are unusual enough that the default rules don't apply well. 
In that case, you may want to consider filing an operating agreement to substitute state law as the basis for the company's internal operations. The Internal Revenue Service is more likely to grant tax-exempt status to a company organized to serve a charitable purpose. However, some jurisdictions do not allow charities to operate there, and other states require nonprofit businesses to register with them in addition to the IRS. A C corporation's ability to issue and sell shares to finance its operations is a significant perk.
Select The Corporate Name and Reserve It with The State to Incorporate Your Business
All financial and contractual instruments and official documents shall be issued under the above name. The Secretary of State of Louisiana requires these data when you file your application to incorporate. Choosing a company name is an essential first step in starting a business. You may reserve a name online or at your state's Secretary of State office. Saving time and money online is great, but a few negatives exist. Even after you've settled on a name for your corporation, it may need to be changed again before you officially launch your firm. For instance, you could decide to bring on a business partner whose surname differs from yours. If the state rejects your application (say, because someone else has already reserved the name you wanted), you'll have to pay another $100 to try again with a different name.
You First Need To Draft Your Articles Of Incorporation
This is simply a document that explains the fundamental structure and principles of your new company, including what sort of organization it is, who the officers are, how they are selected, and how the corporation will be dissolved in the future. It is essential to ensure that you have everything included here; if there is something that you don't want to happen with your company, then it needs to be spelled out in these documents and filed when you register your company. 
It is essential to make sure that you have everything included here. The next step is filing the incorporation articles with us at the Corporation Center. We can assist not just commercial corporations but also limited liability companies (LLCs), professional corporations (PCs), and any other entity formed in Louisiana. To incorporate your business, you will need to send SOS your articles in addition to an application cost and an annual report charge.
Appoint Directors and Officers
You'll need to identify and designate the company's directors and officers. They will assist in representing your firm in legal situations, saving you time and money. The next step is to decide how you want to organize your company. You may form a C-Corporation or an S-Corporation, depending on your preferences (with S-Corporations being more common). If you create a C-Corp, each investor will be individually liable for the corporation's obligations and lawsuits. 
However, if you form an S-Corp, your business will be responsible, not you personally. This is a solid defense plan if your company ever runs into problems. As long as you stick to the fundamentals, it's a breeze. The corporation's legal documents may be served on the registered agent. If someone files a lawsuit against you in Louisiana, they may do a process against your registered agent instead. As a result, you may be sued even if you're not physically present in Louisiana, which is excellent news for companies from elsewhere who want to do business there.
At the Corporation Center, we understand that starting a business can be overwhelming. Many people lack knowledge of the legal procedures or don't have the time to handle the intricacies of forming a corporation or LLC. We are here to help and offer free consultations for our customers in Louisiana. If you're looking for a professional service to assist you with your corporation needs, contact Corporation Center at (800) 580-4870 today.