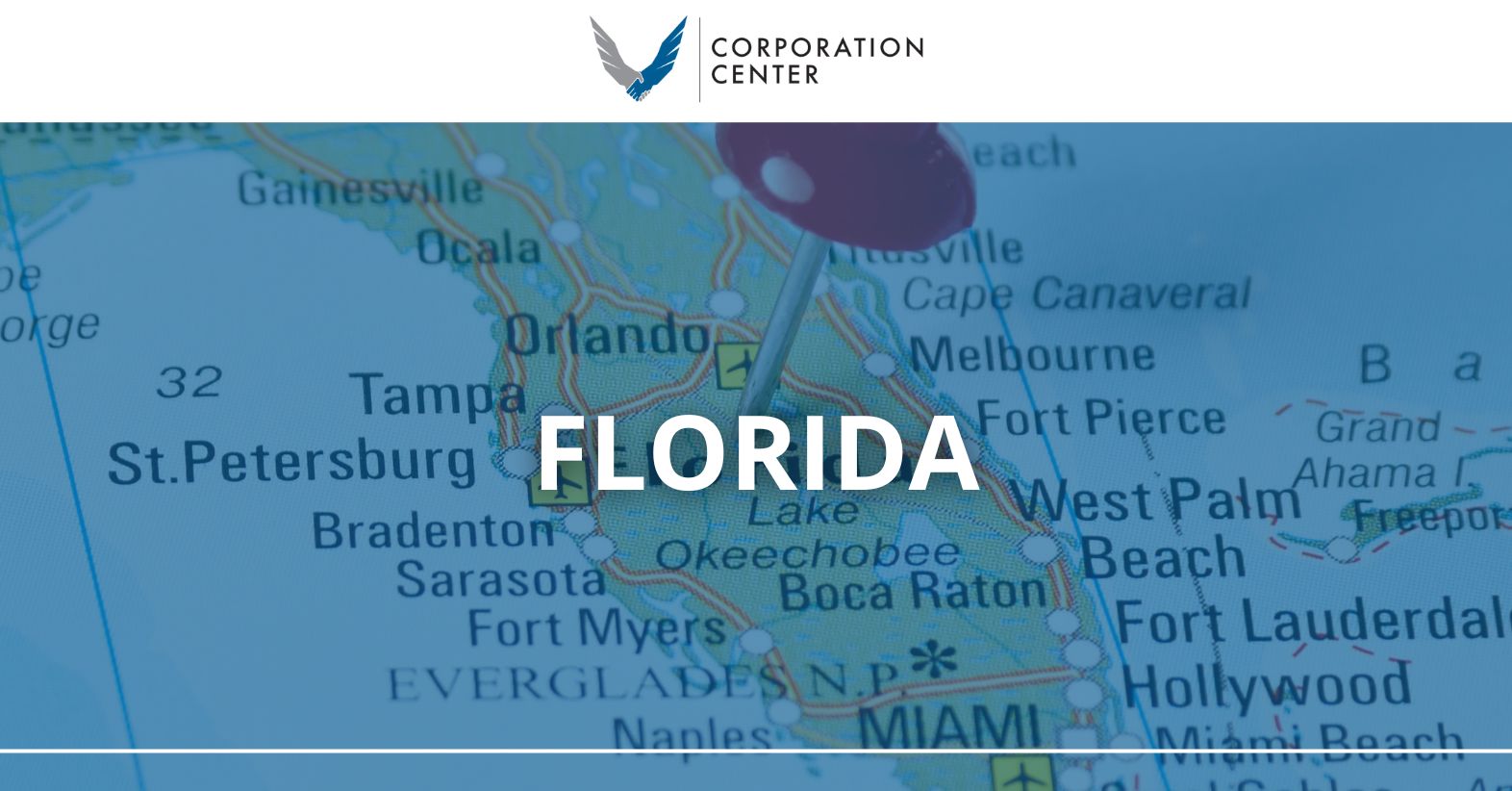 With its expansive beaches and ideal weather, it is no wonder that Florida is such a popular destination. For business owners, the Sunshine State can also be especially hospitable. With low state taxes and a business-friendly environment, it is not hard to see why entrepreneurs continue to flock to this southeastern state. If you are thinking about forming a corporation in Florida, you would be hard-pressed to find a better location. By working with us at Corporation Center, you can use our easy-to-fill web forms to start a corporation, limited liability partnership (LLP), or limited liability company (LLC).
Forming a Corporation in Florida with Our Forms
When you start your own business, you are faced with a number of important decisions and challenges. You need to tailor a business plan that effectively identifies your market. You may also need to hire a team and sign a lease on office space. Even mundane choices like what color business cards you will use can quickly fill your day. One choice that is of particular importance, however, is how you will choose to legally structure your business. What you ultimately land on here will depend on the aims and goals of your business, as well as what your primary concerns are. For instance, are you interested in limiting your liability as much as possible? If so, you may want to form an LLP or LLC in Florida. Or do you want to be able to raise outside investment with ease, allowing you to continue fostering growth for your business? In this scenario, incorporating your business may be the way to go.
By forming a corporation in Florida, you will give your organization the ability to issue stock. This means that you are effectively selling fractional shares of ownership in your business. This transaction can be mutually beneficial–the investor can enjoy the benefits of your success, while your business receives the capital necessary to expand or hire more talent. If this sounds like an ideal fit for your organization, there is a formal process to complete with the state of Florida. 
To get started on creating your corporation, you will first need to choose a name for your business. Your name must include the words "Incorporated," "Company," or "Corporation." An abbreviation of one of those terms is also acceptable. Your corporate name should also be wholly distinct from any other businesses on record with the Florida Department of State.
You will then need to submit what are called "Profit Articles of Incorporation" with the Florida Department of State Division of Corporations. This document will prompt you for some basic details about your business, its incorporators, and your registered agent. The registered agent for your business is the individual tasked with receiving all legal, tax, and government correspondence. This role is sometimes assumed by in-house legal counsel. 
You can use our simplified web forms to draw up your profit articles of incorporation. We will then use our SSL-encrypted web portal to safely and securely transmit your information. By working with a private service such as ours at Corporation Center, you can save yourself valuable time and energy.
Creating an LLC in Florida
Limited liability companies are a popular legal structure for both new and seasoned business owners alike. One reason this structure is so commonly used is that it is fairly simple and straightforward to set up. In most states, Florida included, there is very little required from a maintenance standpoint. When coupled with the benefits inherent to starting an LLC in Florida, it is no wonder this is such a consistent entrepreneurial path. 
In an LLC, you and the other owners (also called "members") can enjoy limited liability protection. This means that if your business files for bankruptcy, or if it is subject to expensive lawsuits, you and the other members can shield your personal assets from any legal action. LLCs also offer a valuable tax incentive in that they receive "pass-through" status with the Internal Revenue Service (IRS). In this designation, profits made by your business are not taxed until they flow down to the members of the LLC, who will then pay taxes on their personal income. 
To start your Florida LLC, you will need to follow a similar process to forming a corporation. You will need to choose a unique name for your business and select a registered agent. You will then need to complete articles of organization and submit them to the Florida Department of State Division of Corporations. You can use our web forms to complete this document–just make sure you have some basic information about your LLC, its members, and your registered agent.
All of the Florida Corporation Forms You Need
Whether you want to start a Florida corporation, LLC, or LLP, we have all the forms you need on one convenient website. To learn more about our services, take a moment to browse our Frequently Asked Questions page. You can also contact one of our customer service representatives by phone or email with any questions you may have.