Are you looking forward to forming an LLC in New York? If so, you should know that A limited liability company is a kind of corporate legal organization that provides its owners with limited liability protection. In other words, if the firm acquires debt or is sued, the LLC owners are shielded from having their assets touched by either situation. Because of this, limited liability companies (LLCs) are well suited for use by companies whose owners want to shield their assets. There are a few factors that you need to keep in mind while incorporating an LLC in the state of New York. The following are some of our best recommendations to get you started.
Make Sure You Have a Registered Agent
In New York, forming an LLC in New York is not a particularly difficult procedure; nonetheless, a few essential details must be remembered. Make sure you have a registered agent lined up before you start your limited liability company. Because this individual will be in charge of receiving essential papers and correspondence on your behalf, it is strongly recommended that you do not assign a stranger to fulfill this function. 
It is not necessary for the person serving as the registered agent to be an employee of the LLC. It is possible to have the same person act as your registered agent and attorney of record. This person might be a business professional or an attorney. Additionally, the articles of organization for your firm should include the registered agent's name and address where they may be reached. If another address is recorded, you will not qualify for any of the tax benefits available to small businesses.
Choose The Right Name for Your Business When Forming an LLC In New York
Name-picking may be challenging and thrilling at the same time. Potential clients will likely judge your company based on your logo and website design quality. To stand out from your rivals, you need to offer your brand a distinct personality and character that people can identify with. There are no hard and fast rules for naming your firm. To make your company name memorable and easy to spell, keep it simple yet unique. 
Avoid employing abbreviations or characters that are difficult to recall or decipher. However, don't settle for a generic, boring name either—you want something that shows your company's personality and gets people hungry to learn more about what you're doing. Take into account the many characteristics of your firm and attempt to come up with a name that represents both professionalism and individuality.
Draft And File Your Articles of Organization with The State
Aside from our expertise in New York law, we are well-versed in how to form an LLC in the city. The first and most crucial step is to become well-versed in the rules and regulations that govern your state and county. Forming an LLC in New York will be much simpler if you know precisely what to do. You'll need to submit your business articles of organization to the secretary of state for your state; you may get the paperwork online or at your local government office. Additionally, you'll need a registered agent in your home state to serve as a go-between for the secretary of state and your firm. 
Following completing all required state documentation, an LLC must be registered with the Department of State (DOS). In addition to a certificate of incorporation and an application for a tax ID number (also referred to as a federal employer identification number), the DOS requests that you submit your documents. Once that's done, you'll need to apply for various business licenses and permits with your city, town, or county. The specific licenses and permits you need will depend on the nature of your business.
Appoint A Manager or Members If You Want to Split Management Duties
Even though the LLC is a pass-through business, selecting management or managers is still a good idea should you divide the ownership tasks. This person(s) may receive notifications and sign paperwork on behalf of the LLC, thereby removing some load off your shoulders. You may also designate members, who are persons who have an interest in the LLC but do not participate in its administration. A member will be accountable for any tax liabilities and other financial commitments that the LLC incurs, therefore, and this individual should be someone who is prepared to carry that burden but does not require anything else from the LLC (for example, money from the company) (for example, money from the business).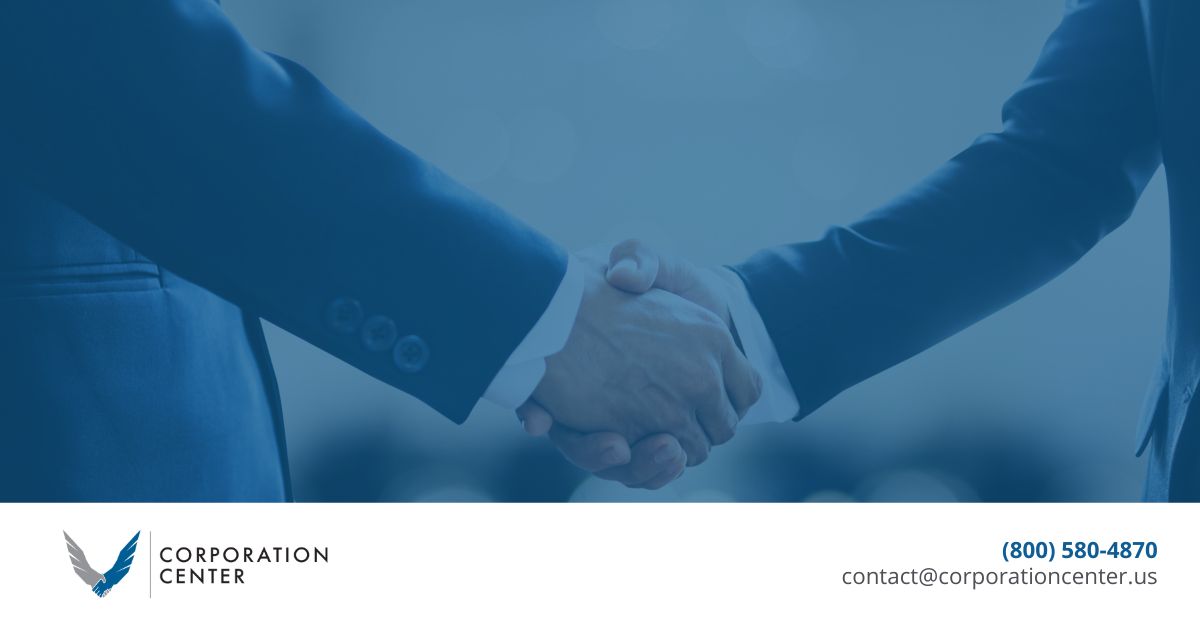 Establish A Bank Account in The Name of Your LLC
You get certain legal protections when you separate your business finances from your personal finances. This is especially important to keep in mind if you plan on hiring employees at some point in the future. Although it may be tempting to use your account, there are certain legal protections you get when you do so. You don't need to have a lot of money in this account when you first start (although we advocate adding more as soon as you can), but it should be simple for people to recognize that this is where the money for your company goes in the beginning.
The Corporation Center is federally recognized for offering New York LLC formation. We have been operating for over 20 years and have helped citizens set up more than 150,000 companies. Our representatives are standing by to answer any questions you might have about the process. Give us a call at (800) 580-4870 today!